Desert Nights Casino No Deposit Bonus Codes 20 Free Chips!
Desert Nights Casino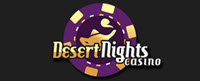 Desert Nights Casino
License: Curacao
Software: Rival Gaming
Deposit Methods: Visa, Mastercard, Bitcoin, Neteller, Skrill, EcoCard and Checks
Desert Nights Casino Info
=> Play at Desert Nights Casino
---
Desert Nights Casino beckons with the allure of its shimmering oasis of gaming opportunities. With a reputation score of 4.2/5, it's evident that many have found solace in its vast expanse of gaming options and rewards. But what truly sets this casino apart? Is it the mirage of bonuses that seem too good to be true or the genuine oasis of limitless rewards? Let's embark on this journey, not through the scorching desert sun but through the cool, rewarding nights of this casino.
Delving into the Bonuses
Ah, the allure of bonuses! Who can resist the temptation of a no-deposit bonus, especially when it's a generous $20.00 for free? But that's just the tip of the sand dune. Desert Nights Casino further entices with a deposit bonus that promises a whopping 250% up to $2,500. Now, that's a reward that can make anyone's night at the casino truly memorable.
But as with all treasures, there are maps to follow and conditions to meet. The 1st deposit bonus, specifically tailored for slots, scratch cards, and keno, offers 250% up to $2,550. But before you set out to claim this treasure, be aware of the wagering requirements. A 35x wagering requirement stands guard, ensuring that only the most dedicated adventurers can lay claim to the prize. And for those wondering about the minimum deposit, it's set at a reasonable $25, ensuring that both high rollers and casual players can partake in the festivities.
The no-deposit bonus, on the other hand, is exclusive and comes with a 50x wagering requirement. But the allure doesn't stop there. A maximum cash out of $170 ensures that players have a tangible goal to strive for.
And for those wondering which countries can bask in these promotions, residents of the United States and Australia, you're in luck! You're eligible for this promotion, making it clear that Desert Nights Casino has cast a wide net to ensure many can enjoy their offerings.
In the world of online casinos, where promises are many but genuine offers are few, Desert Nights Casino stands as a beacon, offering not just bonuses but an experience. An experience that asks the question: Are their oasis of rewards truly limitless? Only time, and perhaps a few spins, will tell.
=> Play at Desert Nights Casino
Game Selection and Quality
Desert Nights Casino beckons with a vast array of games that cater to every player's taste. From the thrill of spinning slots to the strategic nuances of table games, the casino ensures that there's something for everyone. The casino boasts a wide range of games, including slots, table games, video poker, and specialty games. For those who have a penchant for slots, the variety is impressive. Whether you're in the mood for classic 3-reel slots or the more intricate 5-reel video slots, the choices are abundant.
Table game enthusiasts aren't left out, either. From classics like blackjack that test your strategy and decision-making skills to the unpredictable outcomes in roulette, the excitement never ends. Video poker aficionados can also find their niche, with multiple variations that challenge both the novice and the seasoned player. And for those who crave something a bit different, the specialty games section offers unique gaming experiences that deviate from the traditional.
The quality of these games is top-notch. Graphics are crisp, animations are smooth, and the sound effects immerse players into a world of casino excitement. The user interface is intuitive, ensuring that even newcomers can navigate and enjoy their gaming sessions without a hitch. Moreover, the casino's commitment to fair play is evident. With a random number generator in place, players can rest assured that every spin, card dealt, or dice thrown is random and unbiased.
=> Play at Desert Nights Casino
Mobile Gaming
The digital age has ushered in a new era of gaming, where players demand access to their favorite games anytime, anywhere. Recognizing this, Desert Nights Casino has optimized its platform to be mobile-friendly. Gone are the days when you needed to be tethered to a desktop to enjoy a round of blackjack or spin the reels of a slot machine.
With Desert Nights Casino, the gaming floor is as close as your pocket. Whether you're waiting in line, on a lunch break, or just lounging at home, the casino is accessible from a variety of devices, including smartphones and tablets. The mobile version retains all the features of the desktop site, ensuring that players don't miss out on any of the action. The graphics adapt seamlessly to smaller screens, and the touch interface is responsive and intuitive. So, whether you're an Android user or an Apple aficionado, the oasis of rewards at Desert Nights Casino is always within reach.
Payment and Withdrawal Methods
Navigating the vast landscape of online casinos, one of the most crucial aspects for players is the ease and security of transactions. Desert Nights Casino shines brightly in this regard, offering a plethora of payment methods that cater to a wide audience. Whether you're a traditionalist who prefers using credit cards or someone who's embraced the digital age with e-wallets and cryptocurrencies, this casino has got you covered.
Credit cards remain a popular choice for many, and Desert Nights Casino accepts them without a hitch. The straightforward process ensures that players can jump into the action without unnecessary delays. On the other hand, e-wallets have gained immense popularity due to their swift transaction times and enhanced security features. At Desert Nights, e-wallet withdrawals often see funds reflecting within a mere 24-48 hours, a testament to their efficiency.
But the real game-changer in recent times has been the acceptance of cryptocurrencies. As the world leans more towards digital currencies, casinos that adapt and offer such payment methods position themselves at the forefront of innovation. Desert Nights Casino is no exception, embracing this trend and providing an avenue for crypto enthusiasts to enjoy their gaming sessions.
=> Play at Desert Nights Casino
Final Verdict: Is the Oasis Truly Limitless?
Desert Nights Casino, with its alluring name, promises an oasis of endless rewards and gaming experiences. But does it truly deliver on this promise? Let's unravel the tapestry of this digital desert and see if it's an oasis or just a mirage.
Starting with its reputation, a score of 4.2 out of 5 is no small feat. It speaks volumes about the trust players have in the platform and the quality of service it offers. Operating under a Curacao gaming license, the casino ensures that players' information is safeguarded with industry-standard security measures. This commitment to safety is a cornerstone of their operations, ensuring that players can immerse themselves in the games without any lingering worries.
The variety of games is another feather in its cap. From the thrill of slots to the strategy of table games and the instant gratification of scratch cards, there's something for everyone. The inclusion of progressive-themed iSlots adds another dimension to the gaming experience, ensuring that players are always on the edge of their seats.
But what truly sets Desert Nights Casino apart is its commitment to player satisfaction. The rapid customer service, combined with a generous loyalty scheme, ensures that players are always valued and rewarded. The website's user-friendly design further enhances the gaming experience, making it a breeze to navigate and find your favorite games.
In conclusion, the oasis that Desert Nights Casino promises is not just limitless; it's also rich, vibrant, and teeming with life. It's an oasis where every player, whether a novice or a seasoned veteran, can find their place under the starlit sky and enjoy a gaming experience like no other.